The Aerospace Engineering department of the University of Applied Sciences Wiener Neustadt (FHWN) is the only Aerospace Engineering Master program in Austria. More than two dozen internal and external lecturers ensure a program of the highest quality. Our internal staff consist of experts with many years of experience in industry or research agencies. Our external lecturers are experts from well-known companies, research entities and agencies such as Diamond, IWF, Austro Control etc. Lecture contents are therefor state of the art. For more information about the Aerospace Engineering program please click here.
CubeSat Program of the FHWN

The University of Applied Sciences Wiener Neustadt (FHWN) and its Aerospace Engineering Program are dedicated to providing their students the best possible education. Being an applied science university also means offering students ample possibilities to apply and practice their knowledge.

One of those possibilities is the CubeSat program of the Aerospace Engineering department. Established in 2014, our CubeSat program has already developed and launched one CubeSat, named PEGASUS, and is presently preparing the next one, called CLIMB. CLIMB shall be launched in 2021/22 and, using the advanced IFM propulsion system, will travel into the Van Allen Belt.
News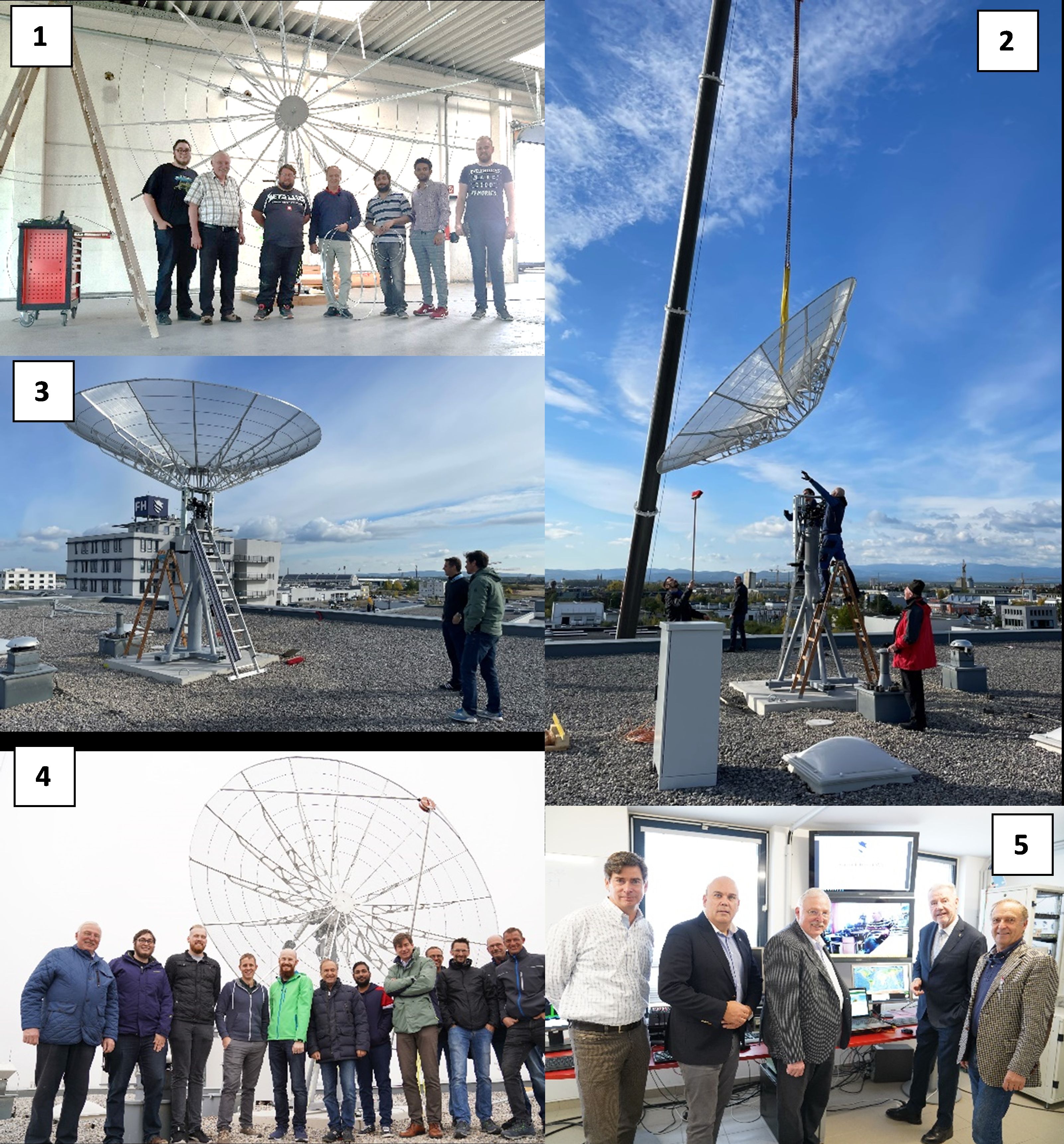 Climb project news
Seven years ago, we started with the nanosatellite program at the University of Applied Sciences Wiener Neustadt. The first satellite, PEGASUS, was launched in 2017 and is still working very well after 4 ½ years in orbit. Now, for our upcoming satellite CLIMB, we are expanding our capabilities. In order to facilitate some of our […]

December 16, 2021
Climb

View Post
Happy Birthday, Pegasus
Happy Birthday, PEGASUS! Birthday celebrations for PEGASUS are now a happy routine! PEGASUS has been in orbit for four years and still operates very well. The picture shows a screenshot of the web-based data center developed by our partner STG-A. PEGASUS was developed by the FHWN with indispensable help of many people and organizations. I […]

June 24, 2021
Pegasus

View Post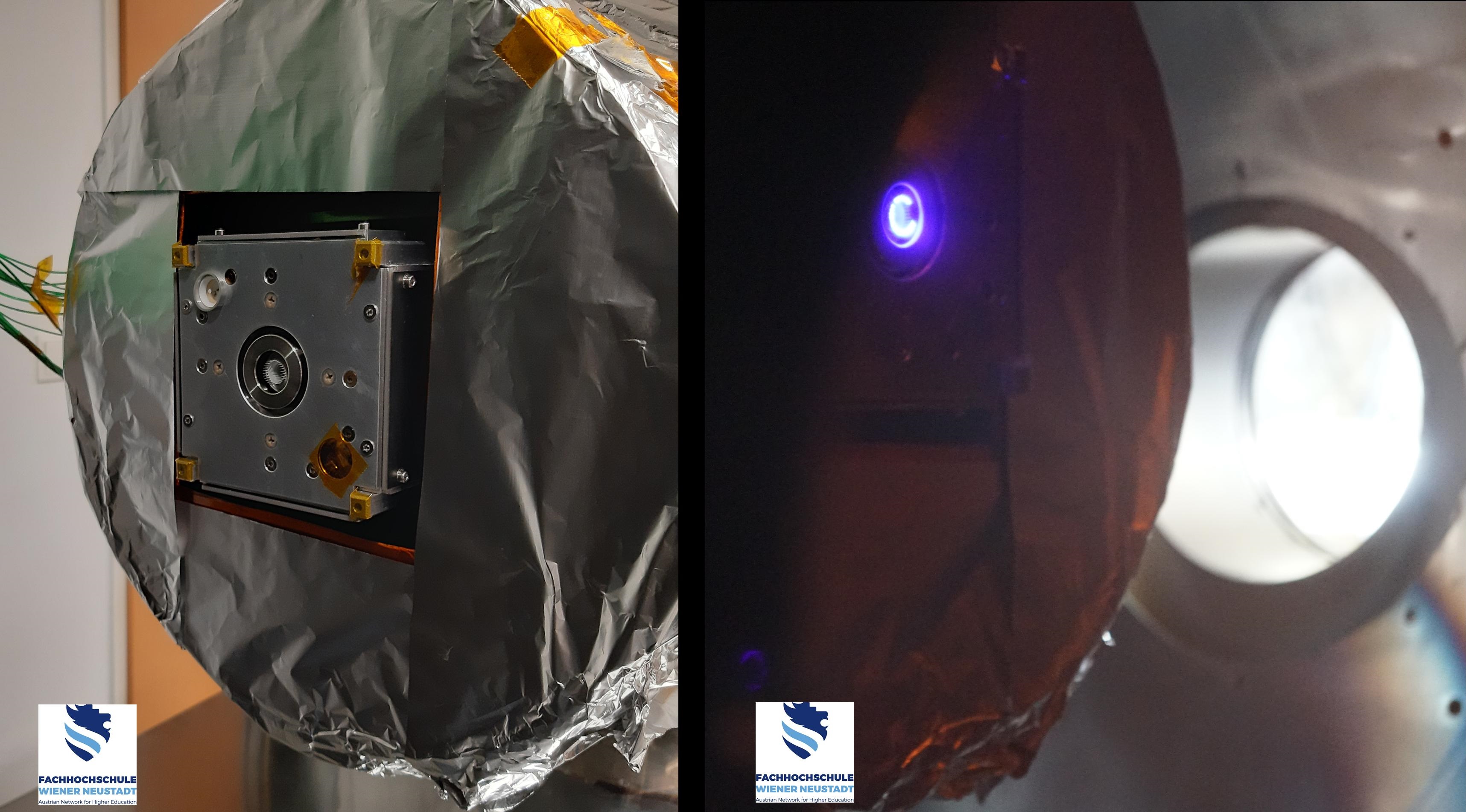 Climb thruster test
CLIMB is our new CubeSat mission which will explore the Van Allen Belt. Starting from LEO at roughly 500 km altitude, we will raise the orbit to about 1000 km altitude. The propulsion system for this maneuver, a so-called IFM, will be provided by ENPULSION (https://www.enpulsion.com ). Naturally, having a propulsion system on board a […]

May 3, 2021
Climb, General

View Post
Facilities
The Aerospace Engineering department has several facilities dedicated to the development and assessment of CubeSats including a Helmholz coil and an ADCS testing facility for subsystem testing. A vibration table and a thermal vacuum chamber for environmental testing are also on site. The testing facilities of our R&D subsidiary FOTEC are also used. For more information about the facilities or if you are interested in testing possibilities, please contact us.
Ground Station
Since the beginning of the CubeSat program, the FHWN has been cooperating with the STG-A group, which has established a ground station network (4 ground stations) in Austria. The FHWN also has its own ground station as part of this network and for educational purposes as shown in the picture of the ground station control room. The FHWN ground station is presently limited to UHF based communication. However, future missions, such as CLIMB, will require a much higher data rate than possible with UHF. In order to prepare the FHWN ground station of CLIMB and other missions, we recently signed a cooperation agreement with Amateurfunk Club Neunkirchen, an amateur radio group with lots of experience in S-band and satellite communication. Together, we will establish an S-band capability at the FHWN and at the same time, the FHWN provides a platform to expand the possibilities for the Austrian amateur radio groups (see e.g. https://www.oevsv.at/home/)  by educating young people in the possibilities of amateur radio and to give them the possibility to work in the exciting field of satellite communication.
Thermal Vacuum Chamber (TVC)
To verify functionality of the CubeSats in vacuum and under the harsh thermal conditions in space, the TVC allows thermal cycling of test subjects with a size of up to 3U CubeSats. The TVC can cycle a subject between -30°C and up to +80°C at a pressure level of at least 6.0E-6 mbar. The cooling and heating rate is at least 1.4°C/min and 2.3°C/min respectively. [Image: TVC]. A large testing facility with higher heating and cooling rate is available at FOTEC.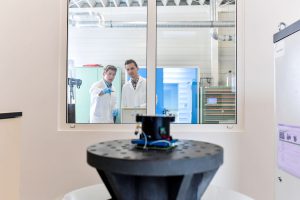 Vibration testing
To ensure that CubeSat survives the tremendous loads during launch, a vibration facility simulates those loads to verify the structural design. A small vibration facility allows a resonance frequency assessment of objects with a weight of up to 2.5 kg and a complete vibrational assessment (quasi static, sine vibration, random vibration) of test objects with a weight of up to 0.6 kg. A larger testing facility for objects up to 18 kg is available at FOTEC.
Sun simulator
Determining the power capability of a solar array (or satellite) is essential. The sun simulator at the FHWN consists of two special light sources which generate light of the same frequency and intensity as the Sun does for Earth in its orbit. This facility also has the possibility to rotate the satellite around two axes in order to assess the power generation capability not only under static but also under dynamic conditions. (e.g. rotating satellite).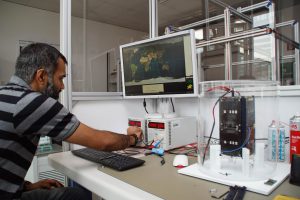 Helmholz coil
Earth's magnetic field can be used to sense the alignment of a satellite as well as actively control it. In order to do so, one needs sensors and actuators (i.e. magnetotorquers). Both have to be developed and calibrated. A Helmholz coil is the ideal facility to do so. The Helmholz coil facility has three computer controlled magnetic coil pairs and a robotic arm to automatically scan the volume of interest and measure the magnetic field within this volume.